Samarium-Cobalt Magnet (Sm - Co)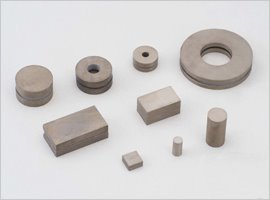 With high magnetic characteristics similar to Neodymium magnets. Suitable for applications in harsh environments, such as rust or high temperature!
It is composed of cobalt and samarium, which are rare-earth elements.
A Samarium-cobalt magnet has highest magnetic characteristics next to Neodymium magnets.
It has advantages as it has greater anti-rust and heat resistant properties.
On the other hand, a Samarium-cobalt magnet is easily broken because it is brittle, so it must to be handled carefully. It is suitable for sensors and medical devices, etc.
Shape
Samarium-Cobalt Magnet (Sm-Co) Column type
| Product code | Dimensions (mm)(dimensions order) | Magnetization direction | Surface treatment | Grade | Surface Magnetic Flux Density | Attraction |
| --- | --- | --- | --- | --- | --- | --- |
| MCT0001 | φ0.8x2 | Vertical radius | Not plating | 28 | 127mT | 0.01kgf |
| MCT0002 | φ1x2 | Vertical radius | Not plating | 28 | 165mT | 0.02kgf |
| MCT0003 | φ1x5 | Vertical radius | Not plating | 28 | 174mT | 0.02kgf |
| MCT0004 | φ1.85x3 | Horizontal radius | Not plating | 28 | 335mT | - |
| MCT0005 | φ2x0.5 | Vertical radius | Not plating | 28 | 148mT | 0.04kgf |
| MCT0006 | φ2x0.6 | Vertical radius | Not plating | 28 | 167mT | 0.04kgf |
| MCT0007 | φ2x2 | Vertical radius | Not plating | 28 | 274mT | 0.09kgf |
| MCT0008 | φ2x2 | Vertical radius | Not plating | 28 | 274mT | 0.09kgf |
| MCT0009 | φ2x3 | Vertical radius | Not plating | 28 | 293mT | 0.11kgf |
| MCT0010 | φ2x3 | Vertical radius | Not plating | 28 | 293mT | 0.11kgf |
| MCT0011 | φ2x9 | Horizontal radius | Not plating | 28 | 322mT | - |
| MCT0012 | φ2.5x3 | Vertical radius | Not plating | 28 | 320mT | 0.16kgf |
| MCT0013 | φ3x0.7 | Vertical radius | Not plating | 28 | 171mT | 0.09kgf |
| MCT0014 | φ3x1 | Vertical radius | Not plating | 28 | 217mT | 0.1kgf |
| MCT0015 | φ3x1 | Vertical radius | Not plating | 28 | 217mT | 0.1kgf |
| MCT0016 | φ3x1 | Vertical radius | Not plating | 28 | 217mT | 0.1kgf |
| MCT0017 | φ3x1.3 | Vertical radius | Not plating | 28 | 251mT | 0.12kgf |
| MCT0018 | φ3x1.5 | Vertical radius | Not plating | 28 | 269mT | 0.14kgf |
| MCT0019 | φ3x2 | Vertical radius | Not plating | 28 | 301mT | 0.18kgf |
| MCT0020 | φ3x2 | Vertical radius | Not plating | 28 | 301mT | 0.18kgf |
| MCT0021 | φ3x2 | Vertical radius | Not plating | 28 | 301mT | 0.18kgf |
| MCT0022 | φ3x3 | Vertical radius | Not plating | 28 | 335mT | 0.22kgf |
| MCT0023 | φ3x3 | One sided 2-pole | Not plating | 28 | 200mT | - |
| MCT0024 | φ3x4 | Vertical radius | Not plating | 28 | 351mT | 0.25kgf |
| MCT0025 | φ3x5 | Vertical radius | Not plating | 28 | 360mT | 0.26kgf |
| MCT0026 | φ3x6.5 | Vertical radius | Not plating | 28 | 367mT | 0.27kgf |
| MCT0027 | φ3x8 | Vertical radius | Not plating | 28 | 371mT | 0.27kgf |
| MCT0028 | φ3x9 | Vertical radius | Not plating | 28 | 373mT | 0.27kgf |
| MCT0029 | φ3x10 | Vertical radius | Not plating | 28 | 374mT | 0.28kgf |
| MCT0030 | φ4x0.7 | Vertical radius | Not plating | 28 | 148mT | 0.12kgf |
| MCT0031 | φ4x0.8 | Vertical radius | Not plating | 28 | 165mT | 0.14kgf |
| MCT0032 | φ4x0.9 | Vertical radius | Not plating | 28 | 181mT | 0.16kgf |
| MCT0033 | φ4x1 | Vertical radius | Not plating | 28 | 195mT | 0.17kgf |
| MCT0034 | φ4x1.5 | Vertical radius | Not plating | 28 | 255mT | 0.19kgf |
| MCT0035 | φ4x2 | Vertical radius | Not plating | 28 | 295mT | 0.26kgf |
| MCT0036 | φ4x2 | Vertical radius | Not plating | 28 | 295mT | 0.26kgf |
| MCT0037 | φ4x2 | Vertical radius | Not plating | 28 | 295mT | 0.26kgf |
| MCT0038 | φ4x3 | Vertical radius | Not plating | 28 | 344mT | 0.35kgf |
| MCT0039 | φ4x3 | One sided 2-pole | Not plating | 28 | 267mT | - |
| MCT0040 | φ4x3 | Vertical radius | Not plating | 28 | 344mT | 0.35kgf |
| MCT0041 | φ4x3 | Vertical radius | Not plating | 28 | 344mT | 0.35kgf |
| MCT0042 | φ4x4 | Vertical radius | Not plating | 28 | 369mT | 0.41kgf |
| MCT0043 | φ4x4 | Vertical radius | Not plating | 28 | 369mT | 0.41kgf |
| MCT0044 | φ4x5 | Vertical radius | Not plating | 28 | 383mT | 0.44kgf |
| MCT0045 | φ4x5 | Vertical radius | Not plating | 28 | 383mT | 0.44kgf |
| MCT0046 | φ4x5 | Vertical radius | Not plating | 28 | 383mT | 0.44kgf |
| MCT0047 | φ4x8.5 | Vertical radius | Not plating | 28 | 403mT | 0.49kgf |
| MCT0048 | φ4x10 | Vertical radius | Not plating | 28 | 406mT | 0.49kgf |
| MCT0049 | φ4x16 | Vertical radius | Not plating | 28 | 411mT | 0.51kgf |
| MCT0050 | φ4x27 | Vertical radius | Not plating | 28 | 414mT | 0.51kgf |
| MCT0051 | φ5x1 | Vertical radius | Not plating | 28 | 172mT | 0.22kgf |
| MCT0052 | φ5x1.5 | Vertical radius | Not plating | 28 | 233mT | 0.29kgf |
| MCT0053 | φ5x2 | Vertical radius | Not plating | 28 | 278mT | 0.32kgf |
| MCT0054 | φ5x2 | Horizontal radius | Not plating | 28 | 419mT | - |
| MCT0055 | φ5x3 | Vertical radius | Not plating | 28 | 337mT | 0.48kgf |
| MCT0056 | φ5x3 | One sided 2-pole | Not plating | 28 | 280mT | - |
| MCT0057 | φ5x3.5 | Vertical radius | Not plating | 28 | 355mT | 0.54kgf |
| MCT0058 | φ5x4 | Vertical radius | Not plating | 28 | 370mT | 0.58kgf |
| MCT0059 | φ5x5 | Vertical radius | Not plating | 28 | 389mT | 0.65kgf |
| MCT0060 | φ5x5 | Vertical radius | Not plating | 28 | 389mT | 0.65kgf |
| MCT0061 | φ5x8 | Vertical radius | Not plating | 28 | 416mT | 0.74kgf |
| MCT0062 | φ5x10 | Vertical radius | Not plating | 28 | 423mT | 0.77kgf |
| MCT0063 | φ5x25 | Vertical radius | Not plating | 28 | 435mT | 0.81kgf |
| MCT0064 | φ5.5x0.5 | Vertical radius | Not plating | 28 | 87mT | 0.1kgf |
| MCT0065 | φ5.5x0.6 | Vertical radius | Not plating | 28 | 104mT | 0.13kgf |
| MCT0066 | φ5.5x0.7 | Vertical radius | Not plating | 28 | 119mT | 0.16kgf |
| MCT0067 | φ5.9x3.5 | Vertical radius | Not plating | 28 | 346mT | 0.67kgf |
| MCT0068 | φ6x1 | Vertical radius | Not plating | 28 | 152mT | 0.27kgf |
| MCT0069 | φ6x2 | Vertical radius | Not plating | 28 | 258mT | 0.44kgf |
| MCT0070 | φ6x2 | Vertical radius | Not plating | 28 | 258mT | 0.44kgf |
| MCT0071 | φ6x2 | Vertical radius | Not plating | 28 | 258mT | 0.44kgf |
| MCT0072 | φ6x3 | Vertical radius | Not plating | 28 | 323mT | 0.59kgf |
| MCT0073 | φ6x3 | Vertical radius | Not plating | 28 | 323mT | 0.59kgf |
| MCT0074 | φ6x3 | Vertical radius | Not plating | 28 | 323mT | 0.59kgf |
| MCT0075 | φ6x4 | Vertical radius | Not plating | 28 | 362mT | 0.76kgf |
| MCT0076 | φ6x5 | Vertical radius | Not plating | 28 | 387mT | 0.87kgf |
| MCT0077 | φ6x6 | Vertical radius | Not plating | 28 | 404mT | 0.94kgf |
| MCT0078 | φ6x6.5 | Horizontal radius | Not plating | 28 | 475mT | - |
| MCT0079 | φ6x9.5 | Vertical radius | Not plating | 28 | 431mT | 1.07kgf |
| MCT0080 | φ6x10 | Vertical radius | Not plating | 28 | 433mT | 1.08kgf |
| MCT0081 | φ6x21.8 | Vertical radius | Not plating | 28 | 449mT | 1.16kgf |
| MCT0082 | φ7x1.5 | Vertical radius | Not plating | 28 | 191mT | 0.47kgf |
| MCT0083 | φ7x3 | Vertical radius | Not plating | 28 | 306mT | 0.69kgf |
| MCT0084 | φ7x3 | Vertical radius | Not plating | 28 | 306mT | 0.69kgf |
| MCT0085 | φ7x3 | Vertical radius | Not plating | 28 | 306mT | 0.69kgf |
| MCT0086 | φ7x8 | Vertical radius | Not plating | 28 | 424mT | 1.36kgf |
| MCT0087 | φ8x1 | Vertical radius | Not plating | 28 | 122mT | 0.33kgf |
| MCT0088 | φ8x2 | Vertical radius | Not plating | 28 | 218mT | 0.7kgf |
| MCT0089 | φ8x2 | Horizontal radius | Not plating | 28 | 437mT | - |
| MCT0090 | φ8x3 | Vertical radius | Not plating | 28 | 288mT | 0.77kgf |
| MCT0091 | φ8x3 | Vertical radius | Not plating | 28 | 288mT | 0.77kgf |
| MCT0092 | φ8x3 | Vertical radius | Not plating | 28 | 288mT | 0.77kgf |
| MCT0093 | φ8x5 | Vertical radius | Not plating | 28 | 369mT | 1.29kgf |
| MCT0094 | φ8x5 | Vertical radius | Not plating | 28 | 369mT | 1.29kgf |
| MCT0095 | φ8x5 | Vertical radius | Not plating | 28 | 369mT | 1.29kgf |
| MCT0096 | φ8x7 | Vertical radius | Not plating | 28 | 409mT | 1.6kgf |
| MCT0097 | φ8x10 | Vertical radius | Not plating | 28 | 438mT | 1.83kgf |
| MCT0098 | φ9x2 | Vertical radius | Not plating | 28 | 201mT | 0.81kgf |
| MCT0099 | φ9x3 | Vertical radius | Not plating | 28 | 271mT | 0.99kgf |
| MCT0100 | φ9.5x1.5 | Vertical radius | Not plating | 28 | 152mT | 0.64kgf |
| MCT0101 | φ9.5x2 | Vertical radius | Not plating | 28 | 194mT | 0.86kgf |
| MCT0102 | φ9.5x4 | Vertical radius | Not plating | 28 | 314mT | 1.25kgf |
| MCT0103 | φ10x2 | Vertical radius | Not plating | 28 | 186mT | 0.91kgf |
| MCT0104 | φ10x3.5 | Vertical radius | Not plating | 28 | 282mT | 1.23kgf |
| MCT0105 | φ10x4 | Vertical radius | Not plating | 28 | 306mT | 1.3kgf |
| MCT0106 | φ10x5 | Vertical radius | Not plating | 28 | 344mT | 1.67kgf |
| MCT0107 | φ10x6 | Vertical radius | Not plating | 28 | 373mT | 1.97kgf |
| MCT0108 | φ10x8 | Vertical radius | Not plating | 28 | 410mT | 2.4kgf |
| MCT0109 | φ10x10 | Vertical radius | Not plating | 28 | 432mT | 2.67kgf |
| MCT0110 | φ11x5 | Vertical radius | Not plating | 28 | 331mT | 1.83kgf |
| MCT0111 | φ12x5 | Vertical radius | Not plating | 28 | 318mT | 1.98kgf |
| MCT0112 | φ12x7 | Vertical radius | Not plating | 28 | 375mT | 2.78kgf |
| MCT0113 | φ12x8 | Vertical radius | Not plating | 28 | 394mT | 3.09kgf |
| MCT0114 | φ12x10 | Vertical radius | Not plating | 28 | 422mT | 3.54kgf |
| MCT0115 | φ12x15 | Vertical radius | Not plating | 28 | 456mT | 4.15kgf |
| MCT0116 | φ12x50 | Vertical radius | Not plating | 28 | 489mT | 4.75kgf |
| MCT0117 | φ12.5x1.5 | Vertical radius | Not plating | 28 | 120mT | 0.78kgf |
| MCT0118 | φ12.5x3 | Vertical radius | Not plating | 28 | 219mT | 1.67kgf |
| MCT0119 | φ14x5 | Vertical radius | Not plating | 28 | 293mT | 2.42kgf |
| MCT0120 | φ14x10 | Vertical radius | Not plating | 28 | 408mT | 4.42kgf |
| MCT0121 | φ14x50 | Vertical radius | Not plating | 28 | 493mT | 6.45kgf |
| MCT0122 | φ15x3 | Vertical radius | Not plating | 28 | 190mT | 2.07kgf |
| MCT0123 | φ15x5 | Vertical radius | Not plating | 28 | 281mT | 2.79kgf |
| MCT0124 | φ15x10 | Vertical radius | Not plating | 28 | 400mT | 4.84kgf |
| MCT0125 | φ17.5x3.5 | Vertical radius | Not plating | 28 | 191mT | 2.82kgf |
| MCT0126 | φ20x3 | Vertical radius | Not plating | 28 | 149mT | 2.68kgf |
| MCT0127 | φ20x5 | Vertical radius | Not plating | 28 | 231mT | 4.44kgf |
| MCT0128 | φ32x7 | Vertical radius | Not plating | 28 | 209mT | 10.28kgf |

Samarium-Cobalt Magnet (Sm-Co) Ring Shape
| Product code | Dimensions (mm)(dimensions order) | Magnetization direction | Surface treatment | Grade | Surface Magnetic Flux Density | Attraction |
| --- | --- | --- | --- | --- | --- | --- |
| MCR0001 | Φ1.25xΦ0.35x0.45 | Horizontal radius | Not plating | 28 | 111mT | - |
| MCR0002 | Φ1.6xΦ0.8x3 | Vertical radius | Not plating | 28 | 127mT | 0.04kgf |
| MCR0003 | Φ2.4xΦ1.3x4 | Vertical radius | Not plating | 28 | 170mT | 0.1kgf |
| MCR0004 | Φ3xΦ1.85x3 | Vertical radius | Not plating | 28 | 168mT | 0.13kgf |
| MCR0005 | Φ6xΦ3x3 | Vertical radius | Not plating | 28 | 280mT | 0.6kgf |
| MCR0006 | Φ6xΦ3.25x4 | Vertical radius | Not plating | 28 | 288mT | 0.62kgf |
| MCR0007 | Φ6.5xΦ3.5x2 | Vertical radius | Not plating | 28 | 250mT | 0.55kgf |
| MCR0008 | Φ8xΦ3.8x2 | Vertical radius | Not plating | 28 | 259mT | 0.75kgf |
| MCR0009 | Φ8.5xΦ4.1x1.2 | Horizontal radius | Not plating | 28 | 264mT | - |
| MCR0010 | Φ9xΦ4x17 | Vertical radius | Not plating | 28 | 398mT | 1.96kgf |
| MCR0011 | Φ9.5xΦ5.1x1.5 | Horizontal radius | Not plating | 28 | 281mT | - |
| MCR0012 | Φ9.7xΦ3.1x15 | Horizontal radius | Not plating | 28 | 399mT | - |
| MCR0013 | Φ9.7xΦ6x6 | Vertical radius | Not plating | 28 | 332mT | 1.49kgf |
| MCR0014 | Φ10xΦ2.8x6.5 | Vertical radius | Not plating | 28 | 374mT | 2.17kgf |
| MCR0015 | Φ10xΦ3x1.5 | Vertical radius | Not plating | 28 | 201mT | 0.81kgf |
| MCR0016 | Φ10.6xΦ7.6x0.9 | Vertical radius | Not plating | 28 | 176mT | 0.51kgf |
| MCR0017 | Φ11xΦ7x1 | Vertical radius | Not plating | 28 | 183mT | 0.56kgf |
| MCR0018 | Φ12xΦ5x4 | Vertical radius | Not plating | 28 | 323mT | 2.14kgf |
| MCR0019 | Φ12xΦ7x3 | Vertical radius | Not plating | 28 | 297mT | 1.7kgf |
| MCR0020 | Φ14xΦ4x3 | Vertical radius | Not plating | 28 | 263mT | 1.89kgf |
| MCR0021 | Φ14xΦ9x1 | Vertical radius | Not plating | 28 | 173mT | 0.93kgf |
| MCR0022 | Φ14xΦ9x7 | Vertical radius | Not plating | 28 | 359mT | 2.91kgf |
| MCR0023 | Φ14xΦ9x8 | Vertical radius | Not plating | 28 | 366mT | 3kgf |
| MCR0024 | Φ15xΦ3x5 | Vertical radius | Not plating | 28 | 319mT | 3.23kgf |
| MCR0025 | Φ15.5xΦ8x2.6 | Horizontal radius | Not plating | 28 | 345mT | - |
| MCR0026 | Φ16xΦ5x3 | Vertical radius | Not plating | 28 | 251mT | 2.17kgf |
| MCR0027 | Φ17xΦ5x5 | Vertical radius | Not plating | 28 | 316mT | 3.87kgf |
| MCR0028 | Φ19xΦ15x1.8 | Vertical radius | Not plating | 28 | 245mT | 1.94kgf |
| MCR0029 | Φ20xΦ7x4 | Vertical radius | Not plating | 28 | 274mT | 3.79kgf |
| MCR0030 | Φ21xΦ14x3 | Vertical radius | Not plating | 28 | 286mT | 3.48kgf |
| MCR0031 | Φ24xΦ15x7 | Horizontal radius | Not plating | 28 | 364mT | - |
| MCR0032 | Φ30xΦ15.5x5 | Vertical radius | Not plating | 28 | 291mT | 7.91kgf |
| MCR0033 | Φ36xΦ28x5 | Vertical radius | Not plating | 28 | 335mT | 9.5kgf |
| MCR0034 | Φ38xΦ14x6 | Vertical radius | Not plating | 28 | 254mT | 10.59kgf |
| MCR0035 | Φ40xΦ17.5x3 | Vertical radius | Not plating | 28 | 159mT | 6.54kgf |
| MCR0036 | Φ45.5xΦ38x15 | Vertical radius | Not plating | 28 | 408mT | 17.17kgf |
| MCR0037 | Φ50xΦ28x5 | Vertical radius | Not plating | 28 | 236mT | 16.45kgf |
| MCR0038 | Φ52xΦ42x10 | Vertical radius | Not plating | 28 | 389mT | 21.81kgf |

Samarium-Cobalt Magnet (Sm-Co) Square Shape
Product code
Dimensions (mm)(dimensions order)
Magnetization direction
Surface treatment
Grade
Surface Magnetic Flux Density
Attraction
MCK0001
1x1x1
1mm
(Magnetic zation)
Not plating
28
160mT
0.02kgf
MCK0002
1.2x1.2x5
5mm
(Magnetic zation)
Not plating
28
229mT
0.05kgf
MCK0003
1.8x0.6x3.6
3.6mm
(Magnetic zation)
Not plating
28
174mT
0.32kgf
MCK0004
2x1.2x1.2
1.2mm
(Magnetic zation)
Not plating
28
214mT
0.06kgf
MCK0005
2x2x3
3mm
(Magnetic zation)
Not plating
28
303mT
0.13kgf
MCK0006
2x2x4
4mm
(Magnetic zation)
Not plating
28
313mT
0.14kgf
MCK0007
3x1x3.4
3.4mm
(Magnetic zation)
Not plating
28
250mT
0.1kgf
MCK0008
3x2x0.7
0.7mm
(Magnetic zation)
Not plating
28
172mT
0.08kgf
MCK0009
3x2x3
3mm
(Magnetic zation)
One sided 2-pole
Not plating
28
222mT
0.11kgf
MCK0010
3.3x2.8x1.4
1.4mm
(Magnetic zation)
Not plating
28
252mT
0.15kgf
MCK0011
4x1.2x2
2mm
(Magnetic zation)
Not plating
28
250mT
0.13kgf
MCK0012
4x2.5x7.5
7.5mm
(Magnetic zation)
Not plating
28
377mT
0.37kgf
MCK0013
4x4x1
1mm
(Magnetic zation)
Not plating
28
182mT
0.2kgf
MCK0014
4x4x2
2mm
(Magnetic zation)
Not plating
28
284mT
0.29kgf
MCK0015
4.2x2.9x1
1mm
(Magnetic zation)
Not plating
28
196mT
0.17kgf
MCK0016
5x1x5
5mm
(Magnetic zation)
Not plating
28
262mT
0.17kgf
MCK0017
5x4x0.8
0.8mm
(Magnetic zation)
Not plating
28
143mT
0.18kgf
MCK0018
5x5x10
10mm
(Magnetic zation)
Not plating
28
425mT
0.94kgf
MCK0019
6x1x3
3mm
(Magnetic zation)
Not plating
28
245mT
0.19kgf
MCK0020
6x1x3.4
3.4mm
(Magnetic zation)
Not plating
28
250mT
0.19kgf
MCK0021
6x1.6x1.5
1.5mm
(Magnetic zation)
Not plating
28
240mT
0.19kgf
MCK0022
6x1.6x2
2mm
(Magnetic zation)
Not plating
28
267mT
0.23kgf
MCK0023
6x4x16
16mm
(Magnetic zation)
Not plating
28
430mT
0.95kgf
MCK0024
6x6x1.5
1.5mm
(Magnetic zation)
Not plating
28
195mT
0.46kgf
MCK0025
6x6x2
2mm
(Magnetic zation)
Not plating
28
240mT
0.54kgf
MCK0026
6.5x4x10
10mm
(Magnetic zation)
Not plating
28
421mT
0.98kgf
MCK0027
6.8x3.8x2
2mm
(Magnetic zation)
Not plating
28
263mT
0.42kgf
MCK0028
7x5x7
7mm
(Magnetic zation)
Not plating
28
408mT
1.17kgf
MCK0029
7x7x5
5mm
(Magnetic zation)
Not plating
28
367mT
1.25kgf
MCK0030
8x4x9
9mm
(Magnetic zation)
Not plating
28
417mT
1.16kgf
MCK0031
8x8x0.8
0.8mm
(Magnetic zation)
Not plating
28
89mT
0.26kgf
MCK0032
9.5x8x4
4mm
(Magnetic zation)
Not plating
28
307mT
1.28kgf
MCK0033
9.8x1.9x1.15
1.15mm
(Magnetic zation)
Not plating
28
205mT
0.41kgf
MCK0034
10x3x3
3mm
(Magnetic zation)
Not plating
28
312mT
0.68kgf
MCK0035
10x5x1
1mm
(Magnetic zation)
Not plating
28
131mT
0.41kgf
MCK0036
10x5x5
5mm
(Magnetic zation)
Not plating
28
364mT
1.3kgf
MCK0037
10x6.5x4
4mm
(Magnetic zation)
Not plating
28
319mT
1.22kgf
MCK0038
10x6.5x4
4mm
(Magnetic zation)
Not plating
28
319mT
1.22kgf
MCK0039
10.3x3x7
7mm
(Magnetic zation)
Not plating
28
387mT
1.06kgf
MCK0040
10.4x7x8
8mm
(Magnetic zation)
Not plating
28
407mT
2.23kgf
MCK0041
11.3x3x7
7mm
(Magnetic zation)
Not plating
28
386mT
1.15kgf
MCK0042
12x2x1
1mm
(Magnetic zation)
Not plating
28
187mT
0.52kgf
MCK0043
12x7x3
3mm
(Magnetic zation)
Not plating
28
254mT
1.36kgf
MCK0044
13x1.3x1.3
1.3mm
(Magnetic zation)
Not plating
28
207mT
0.47kgf
MCK0045
13x3.4x2.5
2.5mm
(Magnetic zation)
Not plating
28
279mT
0.9kgf
MCK0046
13x4.4x2.3
2.3mm
(Magnetic zation)
Not plating
28
250mT
1.08kgf
MCK0047
13x5x5
5mm
(Magnetic zation)
Not plating
28
354mT
1.59kgf
MCK0048
14x8x3.5
3.5mm
(Magnetic zation)
Not plating
28
259mT
1.83kgf
MCK0049
14.5x10x4.5
4.5mm
(Magnetic zation)
Not plating
28
280mT
2.34kgf
MCK0050
15x5x3
3mm
(Magnetic zation)
Not plating
28
275mT
1.45kgf
MCK0051
15x10x5
5mm
(Magnetic zation)
Not plating
28
297mT
2.41kgf
MCK0052
16x2.3x1.5
1.5mm
(Magnetic zation)
Not plating
28
227mT
0.94kgf
MCK0053
16x5x30
30mm
(Magnetic zation)
Not plating
28
457mT
3.22kgf
MCK0054
16x5x30
30mm
(Magnetic zation)
Not plating
28
457mT
3.22kgf
MCK0055
16x6.3x9.5
9.5mm
(Magnetic zation)
Not plating
28
412mT
3.17kgf
MCK0056
16x6.4x2.2
2.2mm
(Magnetic zation)
Not plating
28
201mT
1.5kgf
MCK0057
18x5x4
4mm
(Magnetic zation)
Not plating
28
312mT
1.73kgf
MCK0058
20x8x5
5mm
(Magnetic zation)
Not plating
28
303mT
2.9kgf
MCK0059
20x10x2
2mm
(Magnetic zation)
Not plating
28
137mT
1.65kgf
MCK0060
20x10x5
5mm
(Magnetic zation)
Not plating
28
280mT
3.45kgf
MCK0061
20x10x20
20mm
(Magnetic zation)
Not plating
28
458mT
7.26kgf
MCK0062
20x12x5
5mm
(Magnetic zation)
Not plating
28
260mT
3.88kgf
MCK0063
20x15x5
5mm
(Magnetic zation)
Not plating
28
237mT
4.4kgf
MCK0064
20x20x10
10mm
(Magnetic zation)
Not plating
28
338mT
7.5kgf
MCK0065
22x3x7
7mm
(Magnetic zation)
Not plating
28
373mT
2.1kgf
MCK0066
22x5x4
4mm
(Magnetic zation)
Not plating
28
307mT
2.38kgf
MCK0067
22x22x12
12mm
(Magnetic zation)
Not plating
28
355mT
9.95kgf
MCK0068
23x3x7
7mm
(Magnetic zation)
Not plating
28
372mT
2.19kgf
MCK0069
25x5.5x10
10mm
(Magnetic zation)
Not plating
28
405mT
4.28kgf
MCK0070
25x15x3
3mm
(Magnetic zation)
Not plating
28
145mT
3.21kgf
MCK0071
25x15x5
5mm
(Magnetic zation)
Not plating
28
223mT
5.38kgf
MCK0072
25.5x6.5x13
13mm
(Magnetic zation)
Not plating
28
425mT
5.48kgf
MCK0073
25.5x13x6.5
6.5mm
(Magnetic zation)
Not plating
28
285mT
5.71kgf
MCK0074
30x5x6
6mm
(Magnetic zation)
Not plating
28
353mT
3.65kgf
MCK0075
30x16x5
5mm
(Magnetic zation)
Not plating
28
207mT
6.51kgf
MCK0076
30x23.5x16
16mm
(Magnetic zation)
Not plating
28
376mT
16.08kgf
MCK0077
30x30x10
10mm
(Magnetic zation)
Not plating
28
265mT
13.88kgf
MCK0078
30x30x20
20mm
(Magnetic zation)
Not plating
28
393mT
22.3kgf
MCK0079
30.5x26.5x10
10mm
(Magnetic zation)
Not plating
28
275mT
12.71kgf
MCK0080
34.6x3x7
7mm
(Magnetic zation)
Not plating
28
368mT
3.23kgf
MCK0081
38x38x18
18mm
(Magnetic zation)
Not plating
28
334mT
25.57kgf
MCK0082
42x2x3
3mm
(Magnetic zation)
Not plating
28
291mT
2.97kgf
MCK0083
42.6x3x7
7mm
(Magnetic zation)
Not plating
28
366mT
3.94kgf
MCK0084
43.6x3x7
7mm
(Magnetic zation)
Not plating
28
366mT
4.03kgf
MCK0085
45x8x8
8mm
(Magnetic zation)
Not plating
28
350mT
7.99kgf
MCK0086
45x35x3
3mm
(Magnetic zation)
Not plating
28
71mT
4.43kgf
MCK0087
48x3x7
7mm
(Magnetic zation)
Not plating
28
365mT
4.43kgf
MCK0088
48x10x12
12mm
(Magnetic zation)
Not plating
28
383mT
12.13kgf
MCK0089
49x3x7
7mm
(Magnetic zation)
Not plating
28
365mT
4.52kgf
MCK0090
50x10x3
3mm
(Magnetic zation)
Not plating
28
176mT
7.11kgf
MCK0091
50x10x5
5mm
(Magnetic zation)
Not plating
28
254mT
10.95kgf
MCK0092
100x10x12
12mm
(Magnetic zation)
Not plating
28
372mT
28.31kgf