Greeting from CEO
Welcome to the SIMOTEC (THAILAND) homepage!
"Creation" is the corporate philosophy of the SIMOTEC Group.
To achieve creating new value with the customer is the guiding principle of our Group.
We strive to be the only company that can provide products with reliable quality
that are in sympathy with the global environment through original thinking, technical excellence, and production
awareness of the customer's needs wherever the customer requires and when necessary.
The SIMOTEC Group specializes in designing and producing "magnetic parts",
"mechanical parts", and "heat-related parts".
Our products are used in various industries such as for home appliances, information appliances,
mobile devices, medical devices, vehicles, housing, solar power generation, and wind power generation.
We now we initiate the sale of "magnets" on our homepage in response to the many requests
from the customers in the ASEAN region.
SIMOTECH (THAILAND) will try our best to satisfy customers in the ASEAN region
with the various services that we offer, so please give us your kind support.
Takashi Shimonishi, CEO
Company Profile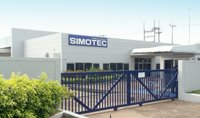 Address

304 Industrial Park, 206 Moo 7
Thatoom Srimahaphote Prachinburi 25140 Thailand

Tel
037-218-808 / 037-480-268
Fax
037-480-871
President
Mr.Takashi Shimonishi
Estabished
2006/7
BOI Approval
2006/9
HeadOffice
Osaka Japan
Products

TV Stand for LCD TV
Tilt Hinge for Medical/Home
Wall Mount Hinge for Projector
Open&Shut Hinge for Copy
Open&Shut Hinge for Printer
Magnet Parts for Sensor/Motor/Home Appliance
EMI Gasket
Heat Sink Unit

Customer a Business World
Degital AV
Office Automation
Factory Automation
Car Navi
Ecology
Home
Medical
ISO Certification
ผ่านการรับรองมาตรฐาน ISO 9001 และ ISO14001 โดย PERRY JOHNSON REGISTRARS, INC.
Production Machine
Performance Machine
Quality
※By Simotec Original
MAP
MAP OF SIMOTEC (THAILAND) CO., LTD. In PRACHINBURI