Electromagnetic Absorber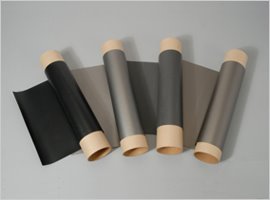 Ideal for anti-noise measurement for all electronic equipment!
"CI Sorb", the electromagnetic absorber, is a total magnetic sheet made of a binder such as rubber and resin, and magnetic powder.
We have 4 series to provide materials ideal for various applications.
| | |
| --- | --- |
| CNEX | Anti-noise sheet. High magnetic permeability type. |
| SS | The magnetic powder is high magnetic permeability metal powder. High performance type. |
| FN | RFID Magnetic sheet |
| AEM | The magnetic powder is specified for the GHz band such as carbonyliron and ferrite (We have qualities suitable for wireless LAN, ETC, radar, and satellite broadcasting). It is a high performance electromagnetic absorbing sheet that is made by mixing carbon steel (AEM) with magnetic powder and a binder such as rubber and resin. |
Features
High electromagnetic absorbing ability
Halogen-free specification*
Easily processed because of its flexibility
Acquired UL94 V-O.*
Non-vulcanization specification, so that material recycling is possible. *
(*: Not suitable for some products).
Uses
Anti-noise measure for all electronic equipment, mobile communication equipment, radio equipment (BS, CS, tuners), OA equipment (projector, FAX, printer), PC (laptop, CD/DVD), TET/LCD, digital switching equipment, digital camera, game equipment, etc.